Publishers who Accept UN-Agented Submissions. a.k.a. Where to Send Your Story
If you're a first time writer, or if you just haven't found the right agent yet, it can be a little difficult to find publishing houses to submit your stories to. So, I've made it a little easier. The Publishers listed below all accept unagented submissions. I have also included a link to their submission guidelines. So, Happy Hunting! But before you submit, make sure you research the publisher by looking at BOTH their published titles and their submission guidelines. Most publishers have very specific guidelines, so you're wasting everyone's time if you submit a talking dog story to a publisher that specifically asks writers not to submit talking dog stories.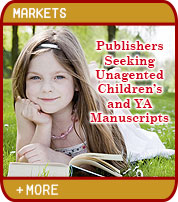 Click the link to the right to read an article is by Chrissy Brady. It lists FIVE publishers that all accept unagented children's submissions. But more importantly, she has done all the work for you. Chrissy lays out each publisher's guidelines: their style, what they're looking for and what they specifically don't want. She even has a section with pitch suggestions. You might want to bookmark this article for your archives. But don't worry, I'll keep the link.
More Publishers
These publishers usually accept unsolicited and unagented submissions, but always look at the submission guidelines page before submitting.